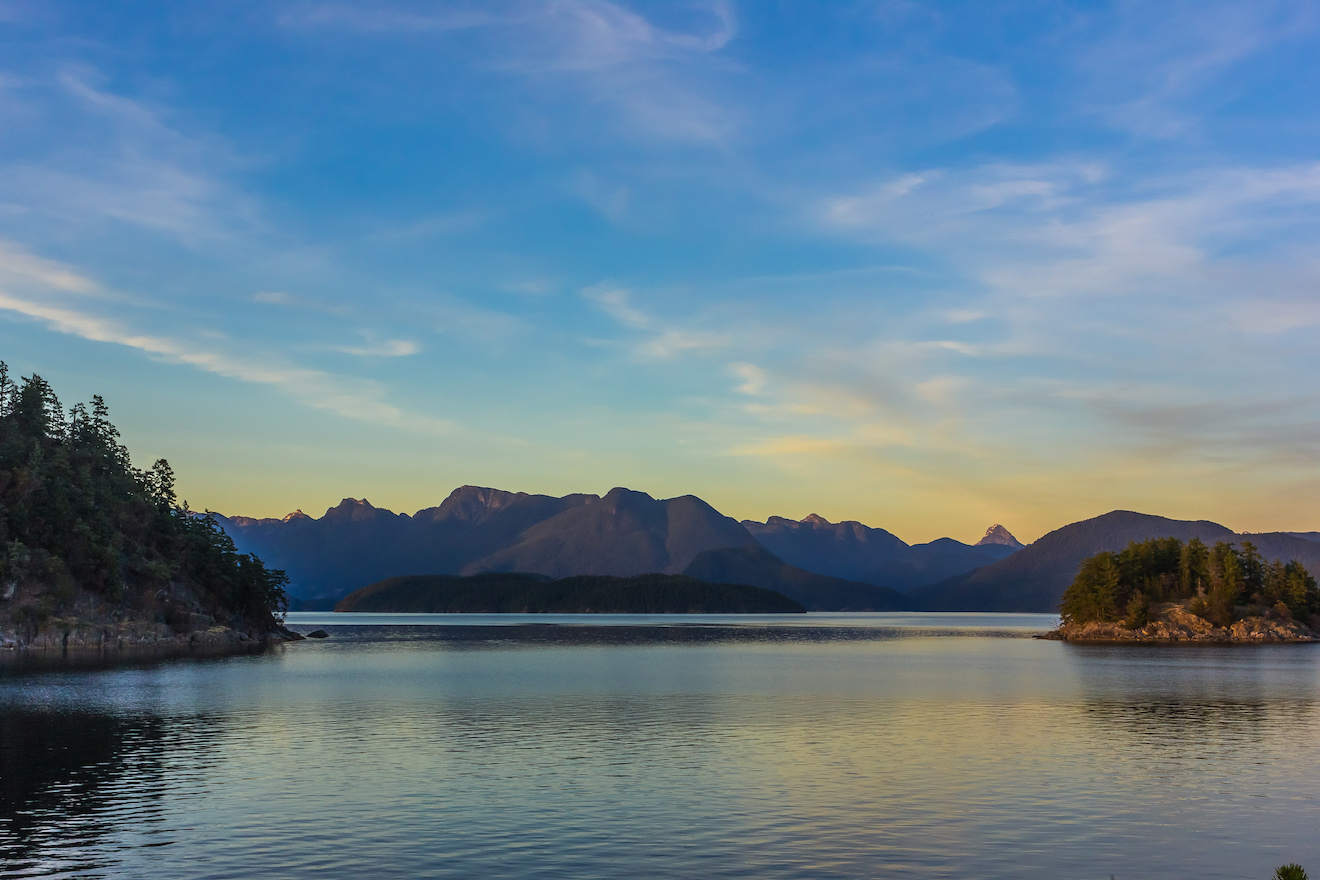 2019 will be the 25th year that Powell River Sea Kayak has been running kayak tours, offering kayak rentals and lessons, and recently added eco resort packages at Cabana Desolation Eco Resort into Desolation Sound, British Columbia.
Over that time we have cultivated a reputation of quality, safety and local knowledge that has made us the Desolation Sound kayak company.
Why Desolation Sound? What makes this place so special to us, so much so that we have dedicated one quarter of a century introducing it to thousands and thousands of guests from all over the world?
1/ Easy Access, despite being at the End of the Road
Desolation Sound, Okeover Inlet, and the village of Lund are often referred to as 'the end of the road' on the mainland coast of British Columbia. At the terminus for Highway 101 north from Vancouver, it is indeed a remote and adventurous place! Deep inlets and immense mountains cut off any potential settlements or road access beyond the Sound, and the further you paddle towards and into the Coast Mountains the easier it is to lose yourself in the scenery and disconnect from the urban world left behind.
However, remote doesn't necessarily mean difficult to access.
Compared to other premier kayaking locations on the BC coast – from northern Vancouver Island to the Central Coast to Haida Gwaii – Desolation Sound is surprisingly easy to get to from Vancouver and beyond!
A beautifully scenic 5 hour drive – complete with two spectacular ferry crossings – is all it takes from downtown Vancouver to reach the burgeoning seaside town of Powell River, the staging ground of Desolation Sound.
Tour guests can make this travel at a convenient pace the day before they launch into the wilderness, even leaving work on a Friday afternoon in the summer to reach the Upper Sunshine Coast in time for a spectacular coastal sunset.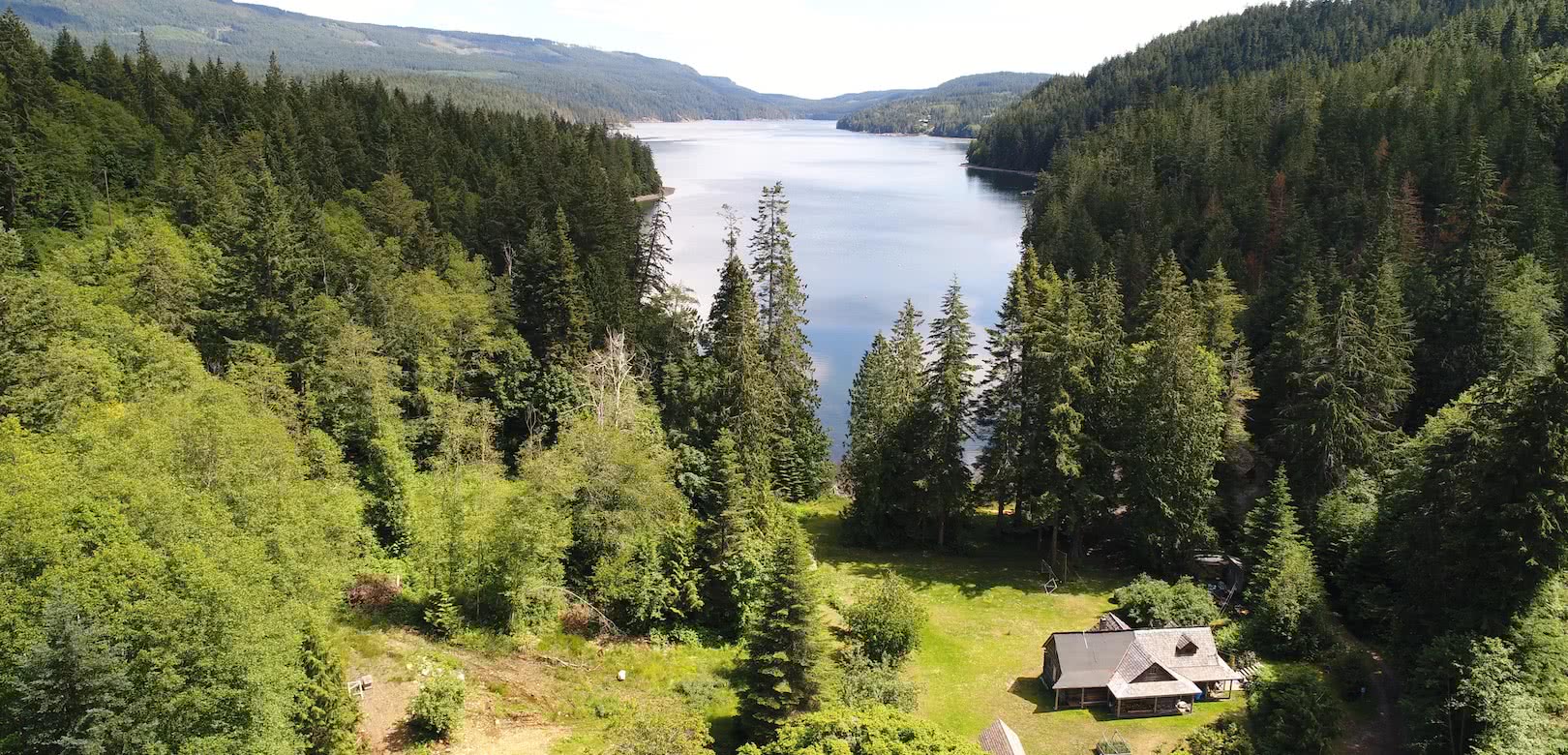 2/ Warm Ocean Temperatures
A lot has been said about the warm waters of Desolation Sound, but it honestly cannot be overstated how unique this environment is on the west coast.
Tidal streams flowing north through the Strait of Juan de Fuca and south through Johnstone Strait meet in Desolation Sound from both directions, meaning that the Sound does not have large volumes of water coming in and out of the area each day. This means that we do not get strong tidal currents that can be found in other areas inside Vancouver Islands, and that the water has the opportunity to rise to temperatures much higher than anywhere else in British Columbia!
Practically, this means that summer in Desolation Sound can see ocean temps reach comfortably over 20 degrees celsius in places! Swimming and snorkelling are favourite pastimes of guests on our tours, especially after a nice, hot summer's day on the water.
Opportunities for education and interpretation abound when you can get right close and personal with intertidal wildlife like we do in Desolation Sound. Snorkelling allows our guests to gain new perspectives on this little encountered oceanic world, and the warm temperatures make the experience unforgettable in more ways than one!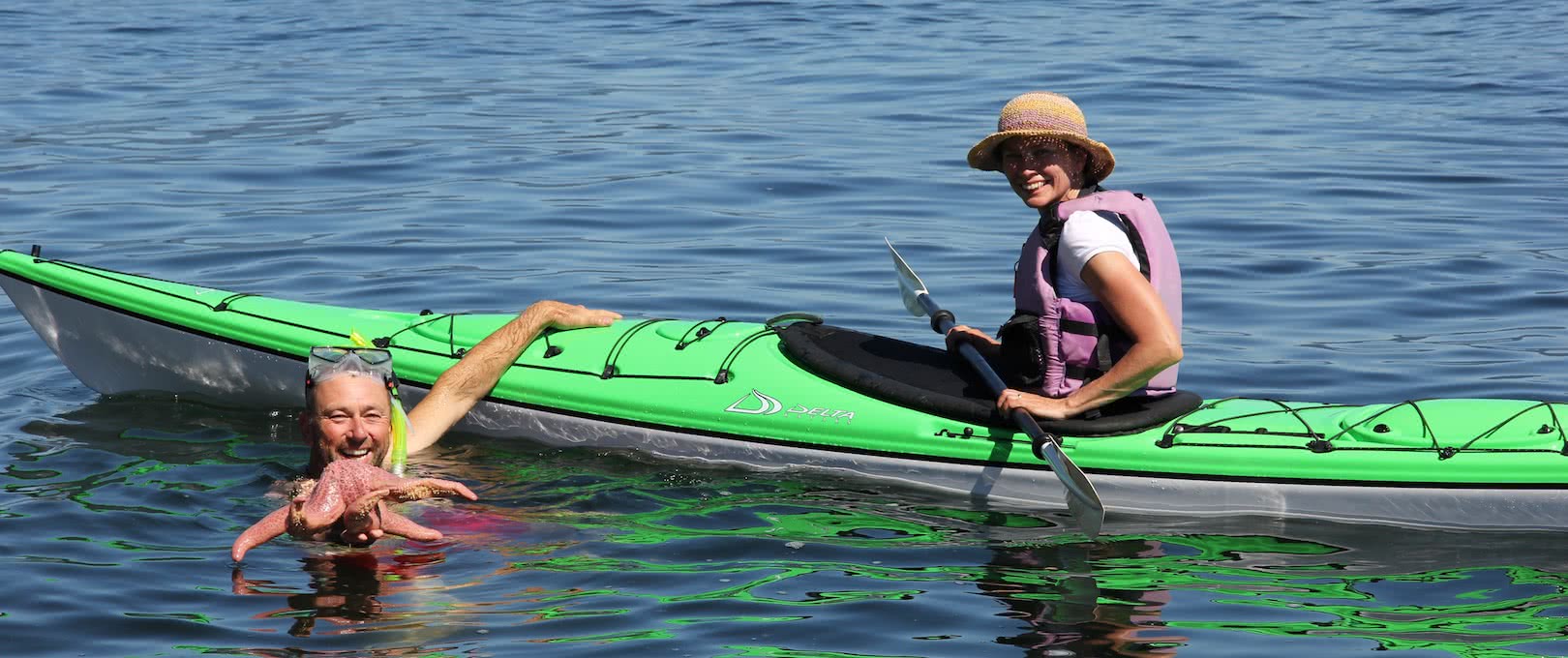 3/ Steep Mountain Scenery & Deep Coastal Inlets
The Coast Mountains frame Desolation Sound to the east like no other paddling Destination in British Columbia. Thousands of years ago, glaciers emerged from the peaks above and carved the steep mountain valleys and cliffs that are synonymous with Desolation Sound.
These mountains form an impenetrable barrier that puts any further mainland coastal settlement north of Desolation Sound out of the question, and proved to be the true nemesis of Captain George Vancouver back in 1792 – a wall of ice and rock that disallowed any further exploration of the fabled North-West Passage that he was desperately seeking.
Mount Denman is of course the crowning jewel of the mountain-scape, causing guests to let out an exhalation of breath in appreciation as the scene slowly unfolds as they enter Desolation Sound from Malaspina Inlet to the south.
Further north these steep mountains are punctuated by long, wide, deep coastal fjords that snack their way into the Coastal Mountain range before ending in wide river estuaries that feed untold numbers of birds and terrestrial wildlife.
Toba Inlet is the fjord directly north of Desolation Sound that we visit on some of our expedition tours. Turquoise ocean water meets towering cliffs that rise into immense ice capped mountains thousands of feet above. Ribbons of water cascade – sometimes gently, sometimes with a thunderous roar – from hidden lakes far above, and you can spend a whole day paddling in awe of the grandeur of the scenery without seeing another soul.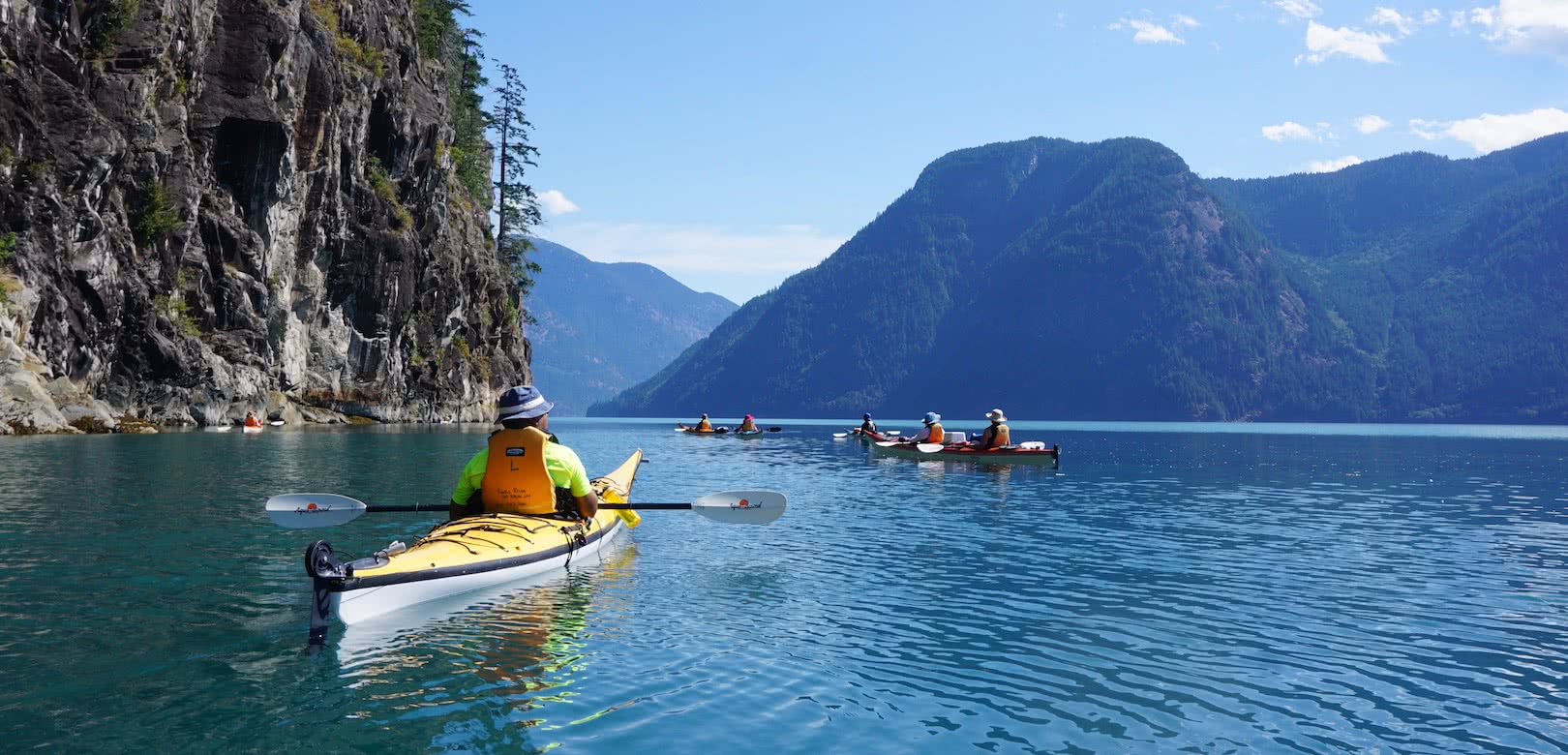 4/ Islands, Islets, Coves & Hidden Lakes
The grandiose scenery is certainly awe-inspiring, but it's the small and hidden features of Desolation Sound that make it feel so intimate no matter what time of year you visit.
Uninhabited islands and tranquil coves are found round almost every corner and Countless bluffs, ledges and pocket beaches are perfect for pulling up a comfy camp chair and a good book.
Hot summer days can bring a craving for a refreshing freshwater dip, and Desolation Sound caters to us here as well. Paddle up to a quiet cove, leave your kayaks above the high tide line, and follow mossy trails beneath towering trees to hidden lakes undetectable from the ocean below.
5/ Great Summer Weather
Coastal British Columbia is known as a temperate rainforest, which means that during the cooler, winter months we see a lot of precipitation. Few people know however, that from mid-June to late-July BC actually has the driest weather in all of Canada – and without the muggy, 40-degree temperatures that can be found elsewhere as well!
Long, summer days warming to temps in the mid-twenties celsius are the norm out here in July and August, and couples with water temperatures topping 20 degrees you could be forgiven for thinking your are sitting on a nice southern beach if it were not for the preponderance of granite instead of yellow sand.
Less clouds also gives way to more epic sunsets, something that Powell River and Desolation Sound is increasingly becoming famous for in the age of social media. Deep reds, oranges and yellows dance slowly across the summer sky, the perfect ending to another spectacularly perfect day in paradise.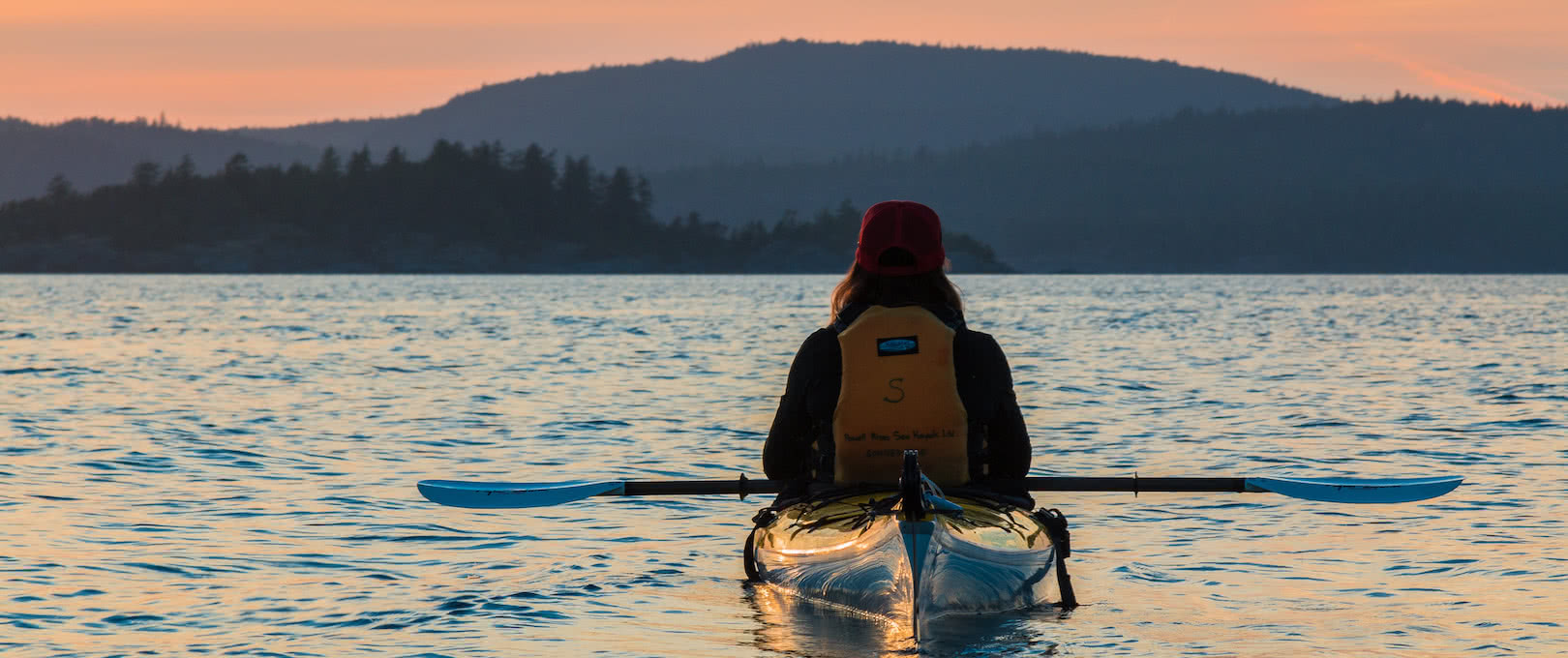 6/ Increasingly Diverse Wildlife
We've always been proud of the wildlife viewing opportunities in Desolation Sound – from colourful intertidal invertebrates to transient orcas to bears and other terrestrial mammals on the forested shores.
In recent years however we have certainly noticed an uptick of some very exciting sightings. Most recently, humpback whales have been returning to the waters inside Vancouver Island in huge populations every summer for the first time since they were effectively whaled out in the early 20th century. This suggests not only a greater respect for these magnificent creatures from human populations, but also an abundance of microscopic food sources that these humongous animals consume!

7/ Fascinating Local History
Desolation Sound has been home to human inhabitants for over 10 000 years. We acknowledge the traditional stewards of this land – the Sliammon, Klahoose and Homalco – in which we paddle, hike and enjoy so much today. Indeed, there are many illustrations of this cultural and spiritual history past that we can still see and marvel at today – from pictographs in Homfray Channel to clam gardens in Okeover Inlet and shell middens in Prideaux Haven.
From this traditional past throughout European settlement to the modern day, Desolation Sound has always had a rich and colourful story to tell, attracting intrepid explorers and unsavoury vagabonds alike throughout the years, hilariously illustrated recently in Grant Lawrence's bestselling book 'Adventures in Solitude'.
—-
As you can see, there is no shortage of adventure to write home about when discussing Desolation Sound, and after 25 years of exploring we find that there are still more stones to turn as we move into our second quarter century of life in this fascinating and beautiful part of the world.
Come join us in 2019 for our 25th season and #experiencedesolation for yourself!
https://www.bcseakayak.com/wp-content/uploads/2019/02/Sunrise-in-Desolation-Sound.jpg
880
1320
Luke Raftl
https://www.bcseakayak.com/wp-content/uploads/2018/12/prsk-logo-2-e1550790684544.png
Luke Raftl
2019-02-11 12:47:30
2021-01-14 10:02:27
25 Years in Desolation Sound: Why We Love it Here