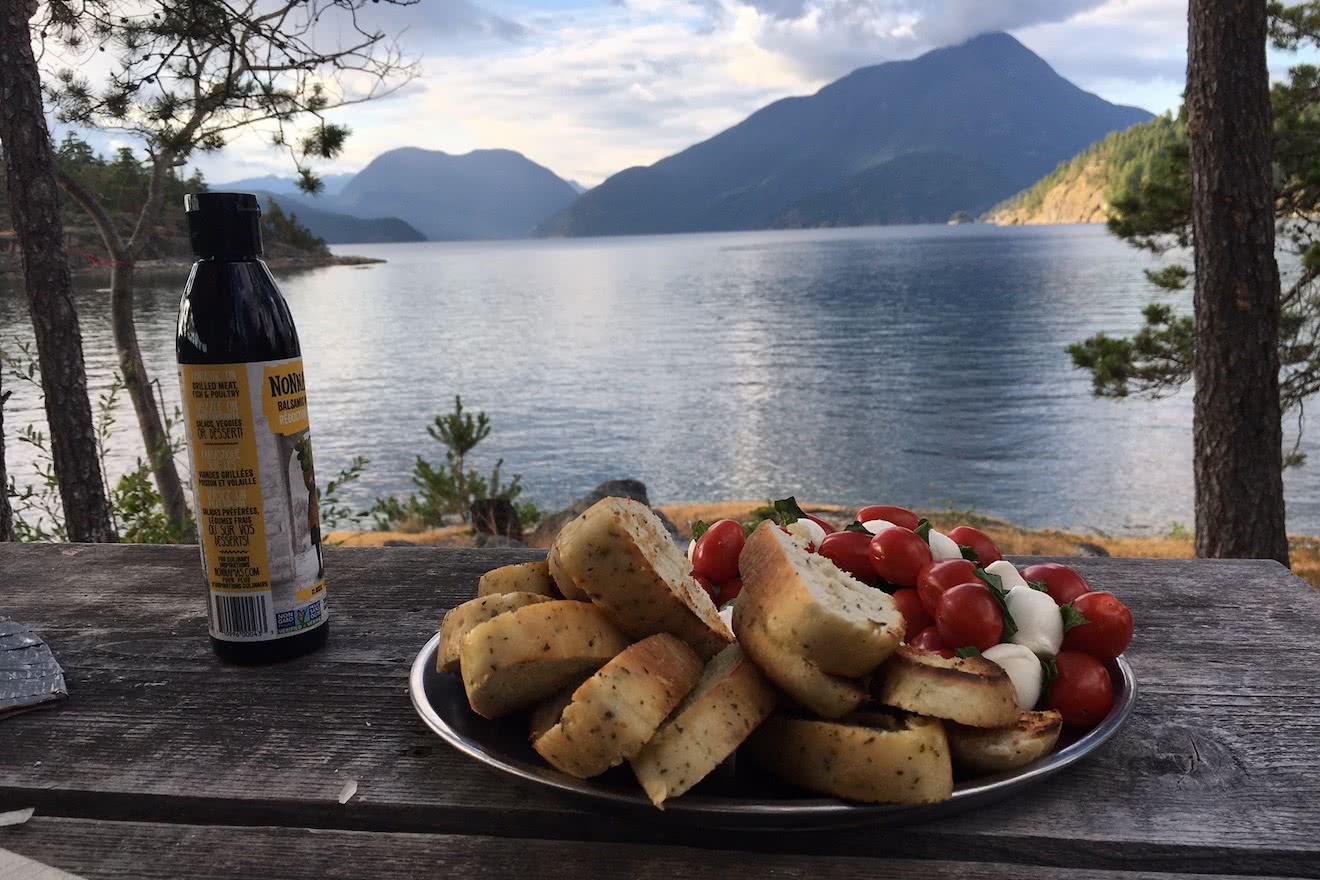 What Should I Cook on a Kayak Trip?
Compared to hiking, overnight sea kayak trips can be luxurious.
Seriously, you can fit a lot in a sea kayak. On our guided trips we frequently bring – along with clothes, tents, sleeping pads and bags, and group tarps – well, everything but the kitchen sink.
Two burner stoves, pots and pans of all sizes, 5lb propane tanks, assorted coffee making devices ("Do you want espresso or french press?") and of course bags and bags of fresh food.
You don't have to go as far as we do, but what we're saying is, you don't need to eat badly on a sea kayak trip.
While it may be easier to pop into MEC and pick up a whole bunch of those bags of freeze dried Pad Thais and powdered egg breakfasts, with just a little bit of planning beforehand you can whip up all manner of tasty, simple, and damn right impressive meals for your friends, partner, or family with a minimum of fuss.
To get your creative flowing, we've included here three relatively easy meals that are sure to win you all sorts of brownie points when you're in Desolation Sound next summer.
Breakfast – Savoury Oat and Lentil Breakfast Bowl
Quick, tasty … and healthy. This breakfast is far more exciting than regular ol' oatmeal, and the veggies add colour and freshness to this hearty breakfast bowl.
Ingredients: (serves 4)
3/4 cup rolled oats
2/3 cup red lentils
3-3.5 cups vegetable broth
2 small shallots diced (or 1 small onion)
3 cloves garlic minced
2 chopped green onions
150g white mushrooms sliced
150g cherry tomatoes halved
2 avocados sliced thinly
Salt & pepper to taste
Put the oats, lentils, shallots and garlic in a camp pot with the broth and bring to a boil, then turn the heat down and simmer without a lid until the lentils and oats become soft and the broth evaporates, about 8 minutes. Add salt and pepper to taste.
Meanwhile chop up the mushrooms and the tomatoes and saute briefly in a small pan until the mushrooms become golden brown.
Ladle the lentils and oats into individual bowls and throw the mushrooms, tomatoes, avocado and green onions on top. Serve immediately.
Lunch – Mango Black Bean Salad
This is a classic! You can make this at home if desired for a quick first day lunch, but it is easily put together in the morning while making breakfast to take with you on your daily paddle in a Tupperware container. Hint: completely drain the beans before adding them, otherwise the salad takes on a washed out grey appearance (though it still tastes great).
Ingredients: (serves 4+)
2 cans black beans
2-3 mangos, peeled and diced
1 red pepper, chopped
1 small red onion, chopped finely
1 bunch cilantro, chopped finely
1 cup corn kernels, roasted (optional)
2 cloves garlic
1 Tbsp cumin
Juice of 1 lime
Dash of olive oil
Sea salt to taste
Roast the corn in a pan until they are golden brown (and throw the garlic in there too while you're at it) and then throw all the ingredients in a container and you're good to go!
Dinner – Mediterranean Pesto Pasta
This is simple meal that can be switched up and created in almost endless ways with whatever ingredients you choose. Spicy salami or Italian sausage along with the artichokes and sun-dried tomatoes gives this a Mediterranean vibe, but can easily be omitted or left out till the end to make it vegetarian.
Ingredients: (serves 4)
Olive oil
400g rotini pasta
4 Italian sausages, chopped in 1/2 inch pieces
2 cloves garlic, minced
2 tbsp chives, chopped
1 red pepper, chopped
1 can artichoke hearts
1 can chickpeas, drained
1 small can or bottle sun dried tomatoes
1 bunch spinach, chopped
150g olives (optional)
1 200g bottle green pesto
Splash the olive oil and the pepper and garlic in a pot over medium heat and cook for 5 minutes. When peppers are soft, throw in the artichoke hearts, and chickpeas and cook for 5-8 minutes, then add the sun-dried tomatoes and reduce the heat to low and let simmer for 10 minutes more.
In the meantime, cook the pasta according to the packet instructions. If you are using them, tae the sausages and fry them up separately so that you can leave it out for any vegetarian paddlers.
Just before the pasta is cooked, add the chopped spinach to the pot with the pesto. Drain the pasta and mix it all together with the sausage. Serve!
https://www.bcseakayak.com/wp-content/uploads/2019/01/IMG_4068.jpg
880
1320
Luke Raftl
https://www.bcseakayak.com/wp-content/uploads/2018/12/prsk-logo-2-e1550790684544.png
Luke Raftl
2019-01-09 14:42:38
2019-11-27 15:21:57
3 Easy Meals to Impress Your Buddies on a Desolation Sound Kayak Trip