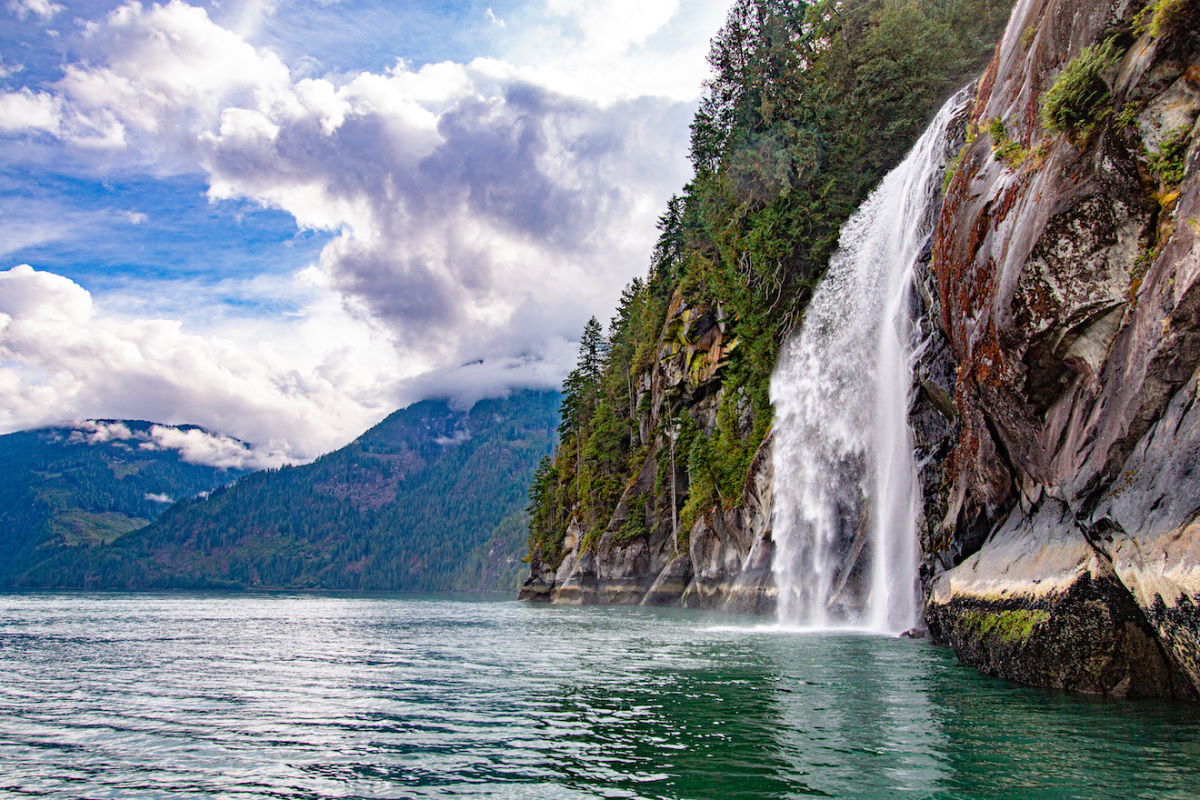 We are excited to present a Brand New Expedition Tour for 2022: an Epic One-Way Exploration of Magnificent Toba Inlet!
Over the years we have been slowly expanding our expedition tours beyond Desolation Sound, and each season the demand for these more adventurous and remote trips eclipses that of the year past.
Our 5- and 7-day loops have been some of our most rewarding tours (for guests and guides alike!) but we've always been searching for a way to go even deeper into Toba Inlet – to an area very few have ever had the pleasure of paddling, right in the heart of the Coast Mountains, amongst thunderous waterfalls and impossibly blue ocean waters fed by glaciers and alpine lakes hidden thousands of feet above.
Now, with the partnership of an awesome new water taxi and transport company in Lund, we are finally able to offer this incredible and truly unique tour to our guests: our 'Epic Toba Inlet & Waterfalls' One-Way Expedition!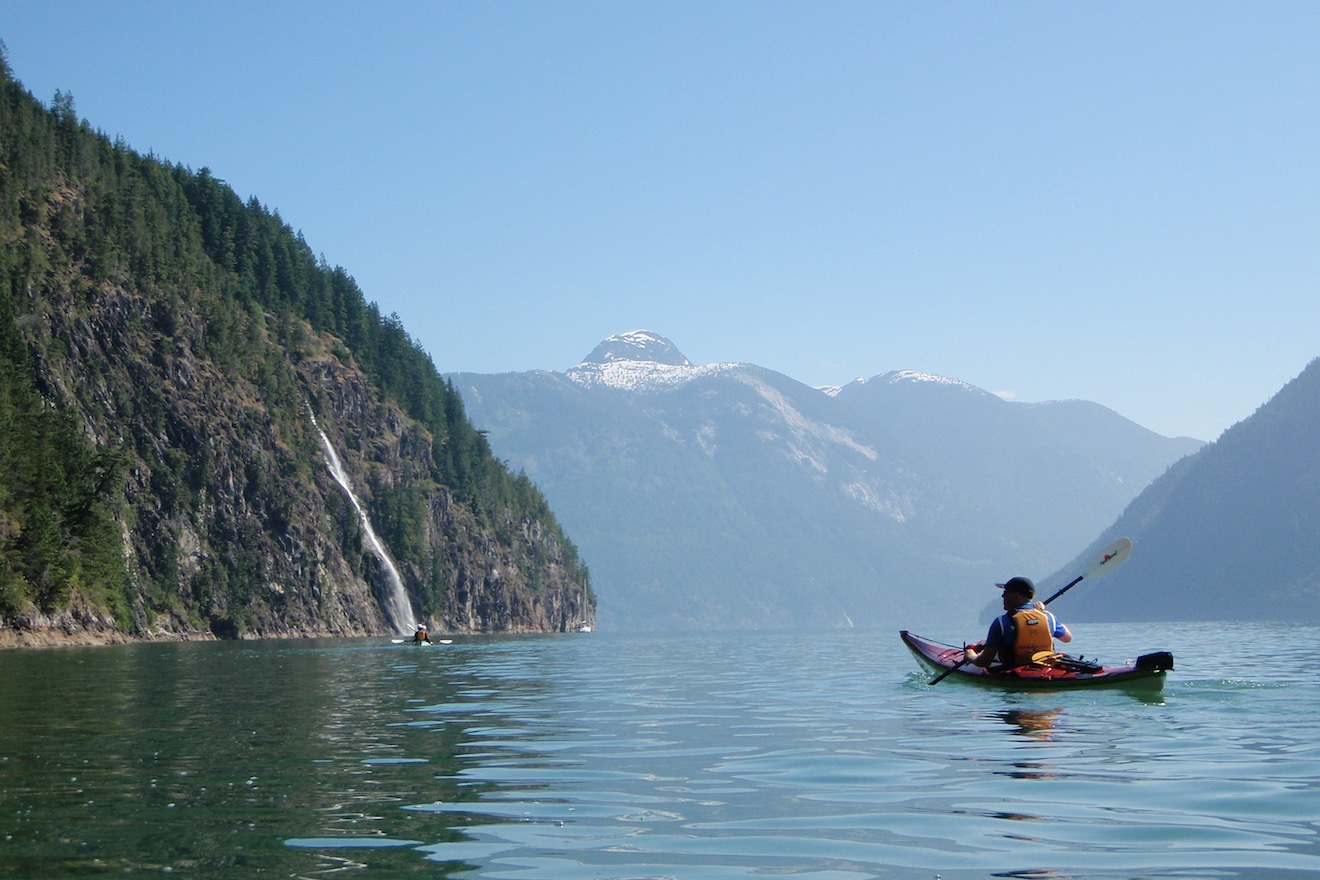 Why Toba?
Toba Inlet has long been one of our favourite kayaking destinations – difficult to reach, but immensely rewarding!
J. Austen Bancroft, writing for the Geological Society to Canada in 1911, said about Toba and Bute Inlets:
"In the grandeur of their scenery these inlets surpass all the others within this area and must rival in their magnificence all examples of the fiord type in the world."
Indeed, as you paddle here you really get a feel for the sense of helplessness that Captain George Vancouver – attempting to find a safe and accommodating passage through these mountains in 1792 – must have felt each and every time he was turned back by them.
Peaks over 7200 feet high rise steep on both sides of this fjord that cuts through the mountains at a depth of over 1600 feet below sea level. This is truly some of the most dramatic mountain scenery that can be kayaked on the entire west coast of British Columbia.
High above the inlet, icy peaks and cirques carved by ancient glaciers hang majestically above alpine lakes – and during the spring and the summer this suspended water returns to the ocean in countless streams that carve massive gorges and ravines; and in certain spots, thunder tremendously into the fjord in waterfalls hundreds of feet in height!
These cascading waterfalls are one of the highlights of the tour, a real tour de force in an otherwise silent and imposing landscape. Yet there are other reasons to visit …
Wildlife in the remote passages north of Desolation is ever present – from roving orcas and migrating humpbacks to huge pods of Pacific white sided dolphins, from eagles and osprey to massive groups of seals and sea lions hauled out on rocks and cliffs, from deer and elk in the forest to black bears – and even Grizzlies – foraging in the intertidal zone at the mouth of great river valleys, like the Brem River deep in Toba.
And as with all our tours, the service, guidance, camaraderie – and yes of course, the food – continue to set us apart as a tour provider on the west coast of British Columbia. Fresh coffee in the morning, with breakfast being prepared in the camp kitchen behind you, as you contemplate the simple meaning of life in the shadow of these great coastal mountains – where else would you rather be than here..?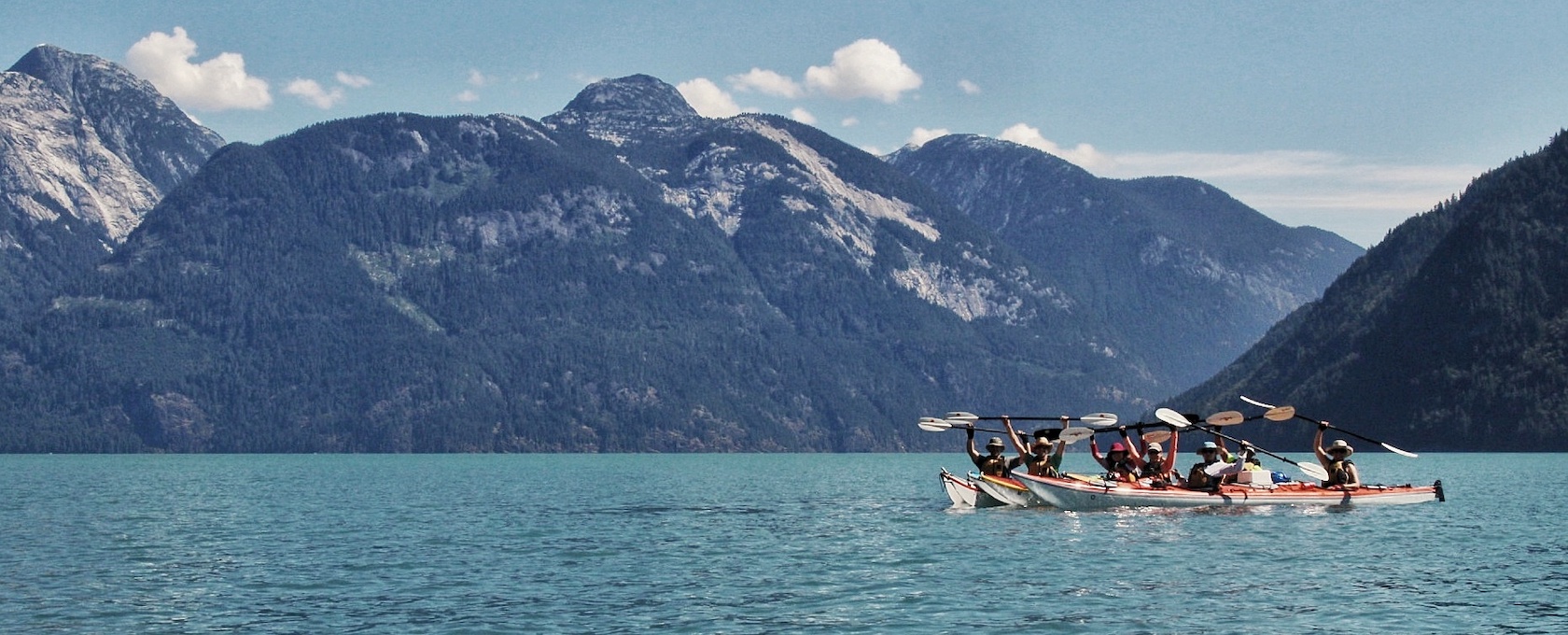 Why One-Way?
Our previous 7-day loop expeditions gave guests a nice taste of Toba Inlet – with many groups spending two nights at our tenured campsite near the mouth of the inlet and using the base camp to explore up to a quarter or a third of the way to the head of the inlet, before returning to Okeover over the last 3 days of the tour.
This one-way pick-up tour allows us to travel deeper into the fjord and camp much closer to the head of the inlet, spending far longer deep beneath the mountains and amongst the crashing waterfalls. Still mornings, silent paddles and clear evenings amongst these giants are maximized, affording more time to truly soak up this incredible landscape.
Most trips will plan to spend 3 nights in Toba itself – though final route and campsite decisions will be made by the guides depending on many factors such as weather and group dynamic. The final morning will see the group paddle from our secret camp to the Brem River estuary – and possibly sight a Grizzly bear or two – before our water taxi arrives in the early afternoon to load up and bring everyone back to our Okeover Inlet base.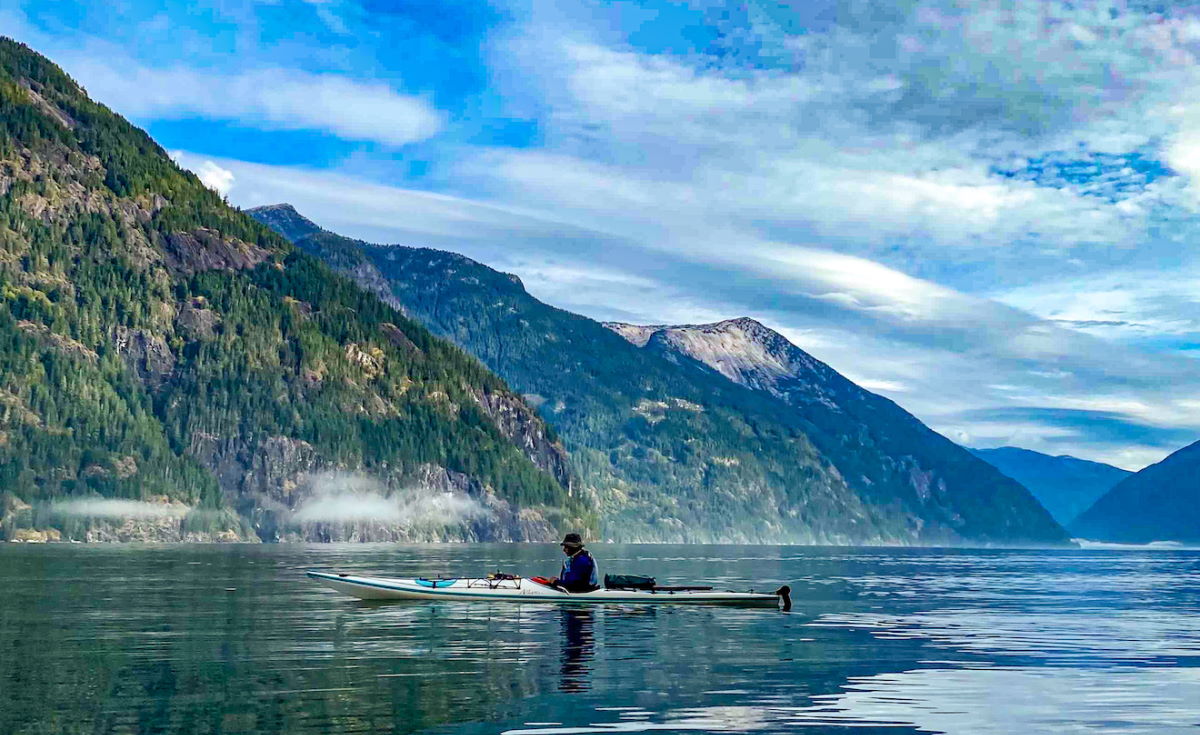 2022 Dates
To begin, we are offering six exclusive dates for this epic Toba Inlet exploration for 2022:
May 19-25 *3 Spots Left*
June 30-July 6 *Sold Out*
July 13-19 *5 Spots Left*
July 28-August 3 *1 Spot Left*
September 1-7 *Sold Out*
September 8-14 *1 Spot Left*
We expect these dates to fill in fast however, so be sure to check our availability calendar for remaining spots, or email us at info@bcseakayak.com for any additional information you may need!
We are also offering 2 dates throughout 2022 for our traditional 5-day loop trip – however for next summer and beyond we have added an extra day to this awesome experience to give guests more time in beautiful and remote Lewis, Pryce and Waddington Channels before paddling back to Okeover. The dates for these 6-day loop expeditions are:
June 9-14 *9 Spots Left*
August 11-16 *6 Spots Left*
To learn more about these expeditions, and to reserve your spot for next summer, click through to our expeditions page and get excited for a remote adventure in 2022!
https://www.bcseakayak.com/wp-content/uploads/2021/10/IMG_9451.jpg
880
1320
Luke Raftl
https://www.bcseakayak.com/wp-content/uploads/2018/12/prsk-logo-2-e1550790684544.png
Luke Raftl
2021-10-07 15:26:32
2023-09-22 09:08:26
Epic Toba Inlet & Waterfalls Expedition – New Tour for 2022!