In Desolation Sound – where the rugged coastline meets warm, protected pacific waters – our sea kayak vacation tours are designed to create the perfect blend of adventure and relaxation. 
We understand the importance of finding balance in your vacation – the excitement of exploration coupled with moments of tranquillity. Here's how our vacation tours look to strike this balance so your experience is both an active adventure and peaceful escape.
Embracing Active Adventure
At the heart, all our tours are active, and designed for an adventurous spirit. Staying at idyllic island camps, exploring rugged coastlines, and viewing varied marine wildlife are all part of what makes touring with us so special. 
Apart from the paddling, there is something so satisfying about setting up your camp – your home away from all stress and responsibilities – in such a peaceful setting. Moving kayaks and hauling gear makes way for scouting the forest and exploring mossy bluffs for the perfect place to pitch your tent in the shadow of the Coast Mountains and within sight of the gently lapping waves.
Whether you are making a base or moving camp in the morning, each day brings different scenes and experiences, unique conditions and wildlife opportunities, and each stroke of the paddle brings us closer to something exciting and new.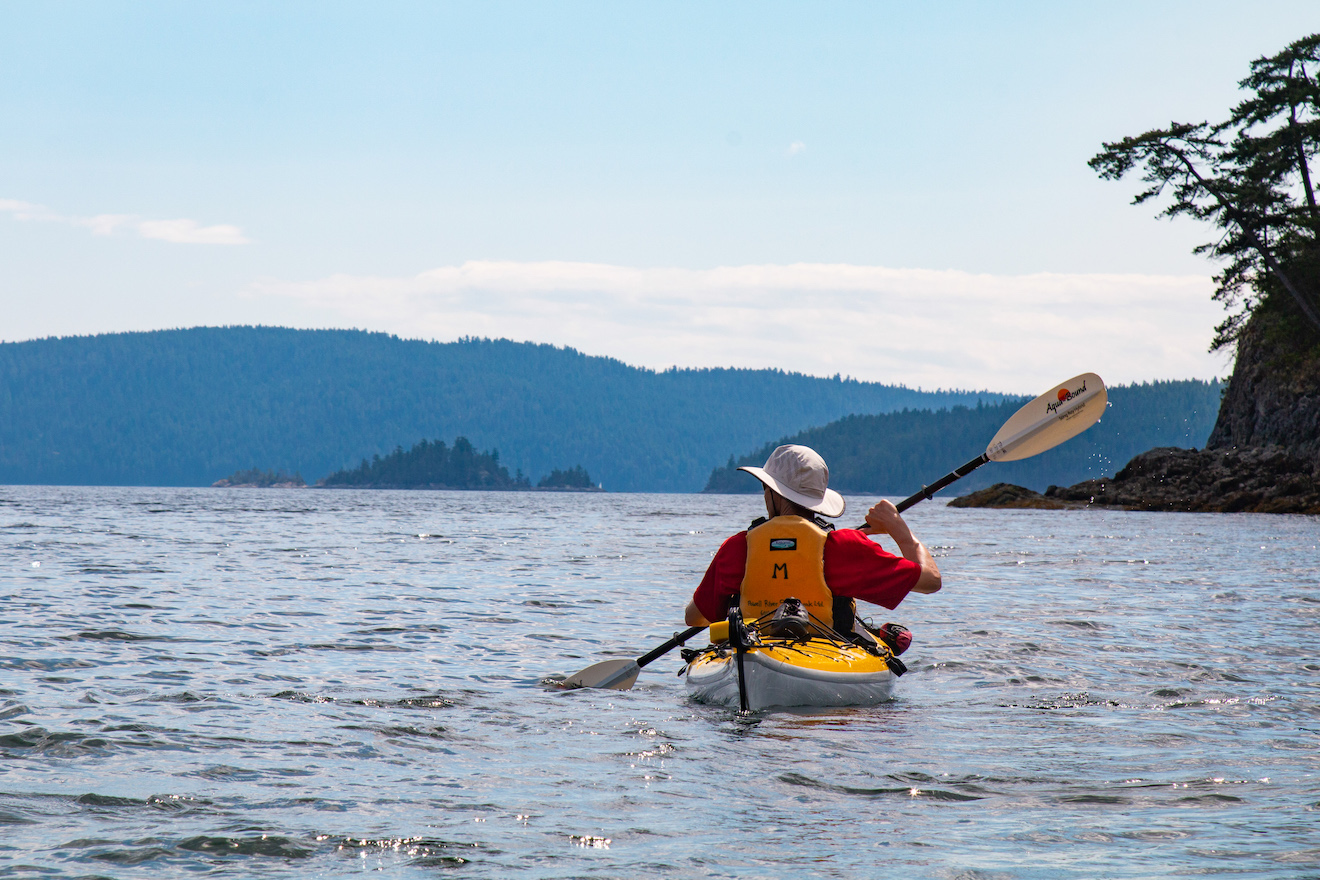 Creating Moments of Relaxation
Amidst the thrill of exploration, however, there is countless potential to find stillness and bliss. 
Picture yourself gliding on the calm ocean, with just the sound of your paddle gently breaking the surface of the water; or waking to the soft noise of birdsong (or if you're lucky, a whale surfacing somewhere offshore). 
Imagine evenings spent eating unbelievably delicious camp meals and watching the sun set slowly over Vancouver Island, before sharing stories under the starlit sky. 
Adventure means nothing without taking time to savour the fruits of your labour. Our tours allow you to unwind and relax amongst your journey in the wilderness.

Connecting with Nature
Desolation Sound offers more than just scenic beauty; it provides an opportunity to connect deeply with our natural world. 
During your tour, there are many moments to simply be present. Observe the dance of sunlight on the water, and breathe in the crisp, invigorating air. Engage in an intertidal nature walk and discover the existence of a weird and wonderful underwater world. This connection with nature can rejuvenate and bring the world into perspective beyond the hustle and bustle of our daily lives.

Tips for Finding Balance
Here are some extra tips for our guests to help find this balance on our vacation camping tours.
Mindful Paddling

: Practise mindful paddling, which means allowing yourself to be fully present in the moment as you kayak. Feel the gentle resistance of the water, savour the breeze on your face, and count the strokes of your paddle as you move through your day.

Morning Meditation

: Start your day with a refreshing meditation session by the water's edge. Let your calm, controlled breaths prepare you for the day's adventures, finding a balance between body and mind.

Unplug and Reconnect

: Take this opportunity to disconnect from the digital world. Leave behind the noise of notifications and immerse yourself in the sounds of nature. Engage in meaningful conversations with fellow travellers and rediscover the joy of genuine human connection. (Perhaps bring the phone along to share your experiences on social media, but be sure to turn on Airplane mode when you're not actively making your friends and family jealous back home!)

Indulge in Unforgettable Camp Cuisine

: Okay, this one is on us. Our guides are not only great interpreters and full of paddling tips to help make the physical effort easier on your body, but also create incredible gourmet meals prepared with love, right in front of your eyes. 
Finding the balance between adventure and relaxation in Desolation Sound is not just a goal; it's been a cornerstone of our tours for almost three decades. 
Our vacation camping tours are perhaps the classic example of this – the quintessential Desolation Sound experience that we have perfected over all these years!
Learn more about our sea kayak vacations here.
https://www.bcseakayak.com/wp-content/uploads/2023/11/IMG_2634.jpg
880
1320
Luke Raftl
https://www.bcseakayak.com/wp-content/uploads/2018/12/prsk-logo-2-e1550790684544.png
Luke Raftl
2023-11-03 12:28:10
2023-11-03 12:31:55
Adventure & Relaxation: Finding Balance in Desolation Sound